Levima Advanced Materials Won Title of State-level Green Factory
Green manufacturing is a vital part of manufacturing power strategy of China. Green factories are the main body of green manufacturing. To promote the high-quality development of manufacturing industry, create advanced models of green manufacturing continuously, lead the green transformation of industries in related fields, and accelerate the construction of green manufacturing system, the Ministry of Industry and Information Technology of China has launched the selection of green manufacturing candidates. Recently, in the notice of the fourth batch of green manufacturing candidates released by the general office of the Ministry of Industry and Information Technology, Levima Advanced Materials Corporation was recognized as a state-level green factory.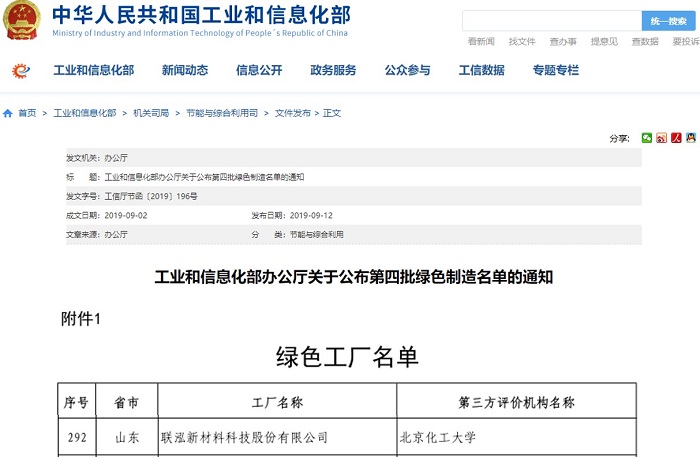 The recognition of green factory has affirmed that Levima Advanced Materials has adhered to the concept of green development, supported by scientific research and innovation, and taken the road of sustainable development for years. As a high-tech enterprise engaged in research and development, production and sales of advanced polymer materials and special chemicals, Levima Advanced Materials will constantly improve its environmental management system, continuously increase investment in environmental protection, steadily reduce energy consumption through technological innovation and operation optimization, build a green manufacturing system, and realize the sustainable and healthy development of the company.
It is reported that green factories refer to factories that realize intensive use of land, cleaner production, recycling of waste and low carbonization of energy. Organized and carried out by the Ministry of Industry and Information Technology, the selection of state-level green factory is finally determined through self-evaluation by the reporting unit, evaluation by a third party organization, evaluation and confirmation by the provincial competent department of industry and information technology, expert argumentation, publicity and other links.